Milling
3-axis CNC machining, on milling machining centers with an additional rotary axis. Processing of various types of materials and three-dimensional models. Processing of aluminum profiles.
Turning
Machining on CNC turret lathes. Working with various types of materials. Automatic production of parts with a bar feeder.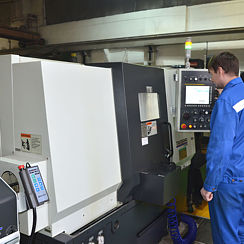 Laser cutting
Sheet metal cutting.
Waterjet cutting
Cutting metal sheet with a thickness of 0.5 mm to 20 mm. Capable of cutting rubber, glass, granite and other materials.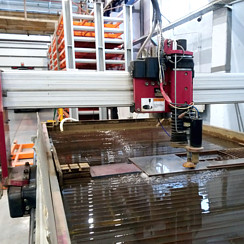 Metal bending
Sheet metal bending.
Welding
In the manufacture of welded structures, modern welding equipment is used. Inverter welding machines are used for MIG welding of carbon steels. For welding complex welded structures made of aluminum alloys or carbon steels, a robotic welding complex is used.
For welding simple structures made of aluminum alloys, an argon arc welding machine is used, the maximum thickness of the welded metal is 20 mm.
Prior to welding of steel parts, all parts are thoroughly cleaned at the shot-blasting station. Parts from aluminum alloys are prepared by chemical etching in baths located directly on the welding site. The welding process is certified, employees have the appropriate qualifications.
Paint coatings
The painting and drying chamber is designed for painting any parts in production. The quality of the paintwork is guaranteed by the most efficient ventilation system. The chamber is equipped with a forced exhaust system, the air flow of which is controlled by a manual damper, due to which the optimum pressure inside the chamber is achieved and the possibility of turbulence is excluded, as well as the ingress of external dust.
Assembly production
Assembly processes in production are performed in accordance with the assembly methods used in the industry, or have their own new methods developed in accordance with the current level of technology development, which is accompanied by control processes, strength and tightness tests.
One of the main ways to increase the efficiency of assembly production is to reduce labor intensity, which is achieved by optimizing the technological processes of assembly, and by improving the design of assembly equipment.
The use of CAD/CAM/CAE-systems in the process of product creation is an integral part of the preparation and analysis of the design of the product, which allows the implementation of actions for the design preparation of production (PPC).
In its development of processes and recommendations, JSC "Steklomash" not only takes into account the current level of technology development, but also challenges the necessity and sufficiency of using this equipment, the complexity of approaches and other factors important for production in the current manufacturing program.
Quality control
The plant is equipped with modern technological equipment, devices for input control of raw materials. The enterprise manages equipment and specialists in ultrasonic, capillary flaw detection, spectral analysis, control of mechanical properties, fully providing input, through and output inspection of the enterprise's products.